Orange roughy fishery re-certified as sustainable
18 August 2022
Deepwater Group praises industry's science investment, encourages more government research
New Zealand's three largest orange roughy fisheries have again exceeded the very high standards required to achieve Marine Stewardship Council (MSC) certification.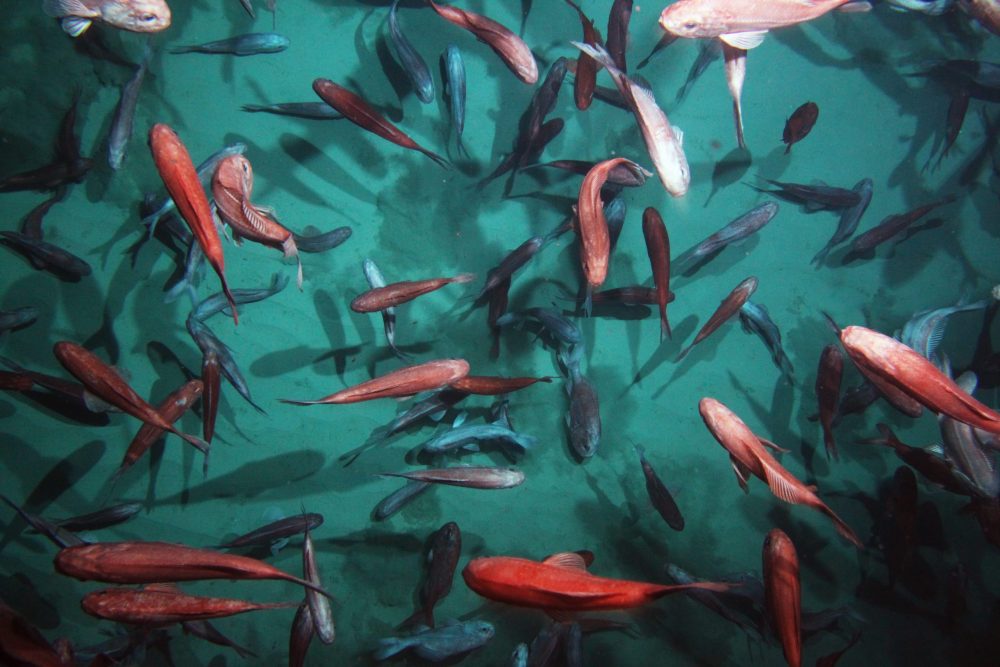 The MSC is an independent international NGO, setting science-based standards for ecosystem-based fisheries management to provide assurance of sustainability within the seafood supply chain. New Zealand's orange roughy fisheries were the first in the world to be certified as sustainable to the MSC Fisheries Standard in 2016.
The Deepwater Group (DWG) represents the owners of quota for New Zealand's deepwater fisheries. DWG CEO George Clement says the care taken in managing these fisheries and the massive investment quota owners make into science and technology ensures commercial fishing is undertaken in a managed and conservative way.
"Orange roughy is a popular fish that 40 odd years ago was taken to the brink. By 2016, we had completely reversed that and rebuilt these populations to very healthy levels. We are very proud of the industry's hard work and our place as the only orange roughy fisheries in the world to be MSC certified," he says.
"We will continue to be very cautious with our management of orange roughy to ensure the long-term sustainability of this valuable New Zealand resource. Only the best available science is used to inform the precise fisheries management practices that are in place.
"Those involved in the fishery back in the 1980s admit the lack of scientific knowledge at the time was a key factor in the depletion of the fish's populations. Forty years ago there was little known about orange roughy biology and, with the benefit of hindsight, the catch limits set by the government were too high.
"Annually, the industry invests around $2m into fisheries science for orange roughy, to inform the setting of quota levels. For orange roughy, these are now set to allow less than 5% of the stocks to be caught each year.
These audits are a completely independent and very robust process that invites full engagement of all those involved
"Obtaining MSC certification is incredibly challenging – certification is for a five-year period with annual audits requiring detailed information on the science, catches, environmental interactions, and the management of certified fisheries. These audits are a completely independent and very robust process that invites full engagement of all those involved."
Clement says the industry is continuing to invest heavily in science in the orange roughy fishery, with the current focus being on how the industry is minimising its impacts on corals in these fisheries.
"Some benthic organisms, such as deepwater corals, are found in small quantities in orange roughy areas. Auditors, when assessing our performance against the MSC's standards, sought information that demonstrates our fishing does not adversely affect the populations of coral to an unacceptable degree.
"We have to date satisfied these requirements, and we will continue to demonstrate the methods used to minimise fishing's impact on corals. While the industry is actively investing in science and developing improvements in technology, we reiterate our call for the Government to undertake an inventory of the benthic biodiversity within New Zealand's EEZ."
Anne Gabriel, Program Director, MSC Oceania commends New Zealand on its work to ensure its orange roughy fisheries are sustainable.
"It has taken great commitment for the Deepwater Group to voluntarily journey through the MSC's global standard for sustainable fishing and to demonstrate again that orange roughy can be sustainably managed," Gabriel says.
"For consumers of orange roughy, the MSC blue tick of assurance demonstrates that their purchase comes from one of these MSC certified sustainable orange roughy fisheries."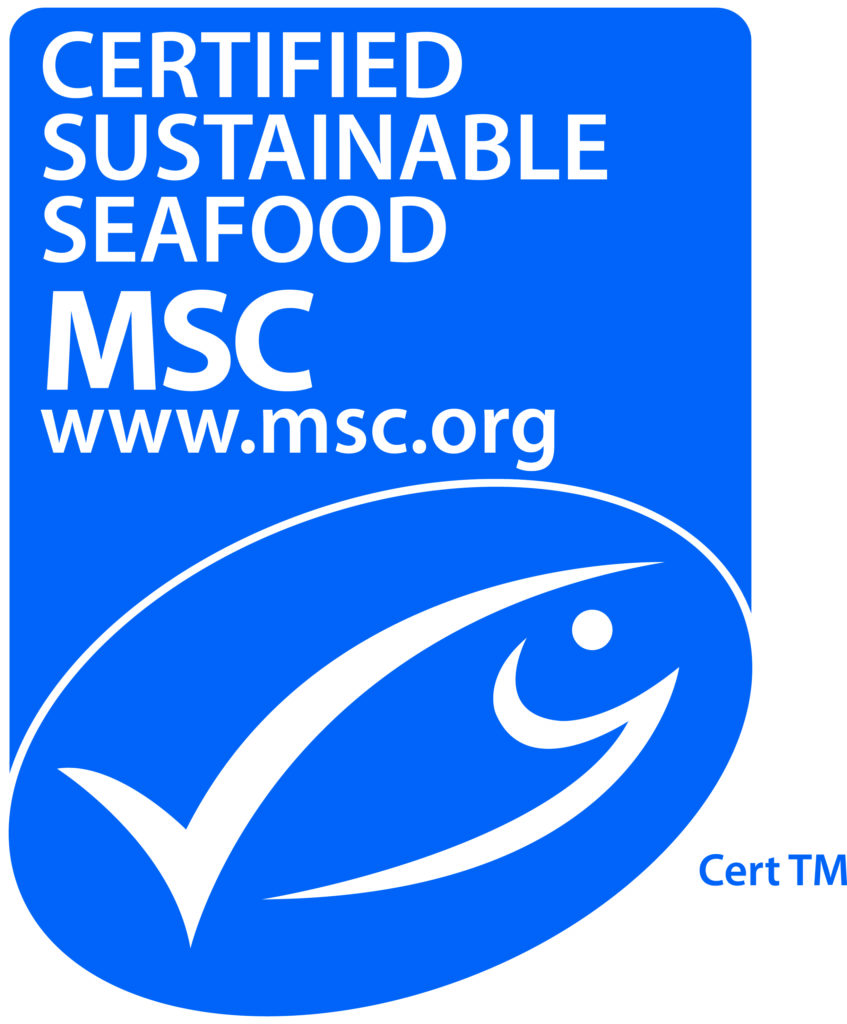 Background
New Zealand has the largest orange roughy fisheries in the world, representing around 80% of the global catch.

The fish are caught with bottom trawls, generally between 800 m to 1,200 m. Annually, less than 0.08% of New Zealand's Exclusive Economic Zone is trawled for orange roughy. Fishers return to the same fishing grounds to sustainably harvest each year.
New Zealand has made significant improvements to rebuild these once overfished stocks to levels that meet MSC's high standards for sustainability.
In partnership with the Ministry for Primary Industries, the New Zealand fishing industry has invested heavily in rebuilding orange roughy stocks through catch reductions, including setting this at times to zero, and a harvest strategy based on a comprehensive research plan. The New Zealand Quota Management System, established in 1986, has been used at times to close fisheries to rebuild stocks faster.
New acoustic techniques were developed in the late 1990s to survey orange roughy stocks and to provide more accurate biomass estimates.
New stock assessment models developed in the early 2000s enabled fisheries management decisions to be made and implemented with greater levels of confidence, reducing the catch limits to a low of 6,941 t, and a total catch of 5,324 t in 2013.
Orange roughy catch limits have since been progressively increased to 12,161 t in 2020-21 as their stocks are assessed to progressively have recovered in size.
In practical terms, fewer than five in every 100 adult orange roughy are now allowed to be caught each year.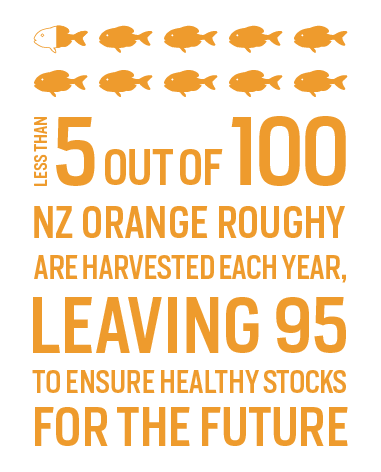 Since 1998, quota owners have directly commissioned 34 orange roughy biomass surveys, stock assessments, and science projects costing $17 m, in addition to the government's spend of $27 m to purchase science for orange roughy which has been cost recovered from quota owners. The industry has scheduled more directly purchased science over future years.
The three largest New Zealand orange roughy fisheries, representing 82% of New Zealand's orange roughy harvests (in 2021-22), have been independently certified as sustainable for the second five-year period by the Marine Stewardship Council.
---
Recent media pick-up can be found here.