Fewer barriers needed when it comes to commercial fishing innovation
Seafood New Zealand's Aaron Irving is urging Fisheries New Zealand (FNZ) to proceed with its proposal to reduce the barriers to fishing innovation designed to strengthen environmental performance.
Mr Irving heads the Deepwater Council, a division of Seafood New Zealand that represents 45 quota-holding seafood companies operating more than 60 commercial deepwater vessels and employing approximately 8,500 people.
Mr Irving is commenting on the draft Fisheries Industry Transformation Plan, released on 27 April, and the proposed action to 'Review regulatory settings and operations to identify and mitigate regulatory barriers to fishing innovation' in particular (action 1.1.2).
"The deepwater fishing sector has been asking for the government to lift the ban on technologies such as data transmission cables for many years. It is good to see some action towards freeing up fishers to use technology that enables more targeted fishing and better environmental performance."
In January 2022, Fisheries New Zealand consulted on a range of proposed technical amendments to fisheries regulations. One of these proposed revoking the ban on the use of sonar cables on trawl nets that transmit important information to the fishing vessel.
Mr Irving says the deepwater fishing industry's wide support for this proposal has only deepened since January 2022.
"New Zealand is the only fishing nation where the use of enhanced trawl sonar equipment is prohibited. This is equipment that allows fishers to see the seabed ahead of them as they fish for the healthy protein that people rely on commercial fishers to catch, such as hoki, orange roughy and southern blue whiting," Mr Irving says.
"The 2022 consultation described what commercial fishers have been telling us for a long time – that this is a missed opportunity for furthering sustainable fishing practice, and that fishers are already using, or are prepared to use, the methods that mitigate any risk associated with the cable."
The potential benefits of using enhanced trawl sonar equipment include:
reduced environmental impacts of fishing – more efficient trawling can lead to fewer tows and shorter tows to catch the same quota of fish
live video feeds from net-mounted cameras, to determine the presence of protected species and to better understand the impacts of trawling
improved efficiency and selectivity of fish while trawling
the development of mechanisms to allow the net to be opened at depth, releasing a catch
"Put simply, better equipment allows us to catch the same amount of fish for people, more sustainably. It means we use less fuel, less energy and reduce the chances of interacting with protected species and the seafloor. Fishers can also come back home from sea sooner."
The risks associated with the cable relate to the potential for seabirds to be injured or even killed by cables as they forage for fish scraps around the vessel. While this was the situation before the ban in 1992, FNZ acknowledges that these risks have been significantly reduced by mitigation measures currently in place.
"There were legitimate reasons for the ban 30 years ago, particularly in regard to the white-capped albatross population, but there are now long-standing, proven protections in place," Mr Irving says.
"Bird deterrent devices like streamers or tori lines, bafflers, operational practices and other measures reduce the probability of encountering birds when using trawl gear and have made the reintroduction of this technology possible."
Mr Irving describes the advancement in cable technology as a paradigm shift.
"Some still refer to 'net sonde' cables in reference to early models 'net sounding' function. But what we have at our fingertips now is trawl sonar technology that helps us see the seabed as we fish.
"The call was made more than two years ago by the Prime Minister's Chief Science Advisor who, in her March 2021 report on the future of commercial fishing, recommended reducing barriers to innovation and empowering fishers to innovate and improve environmental outcomes."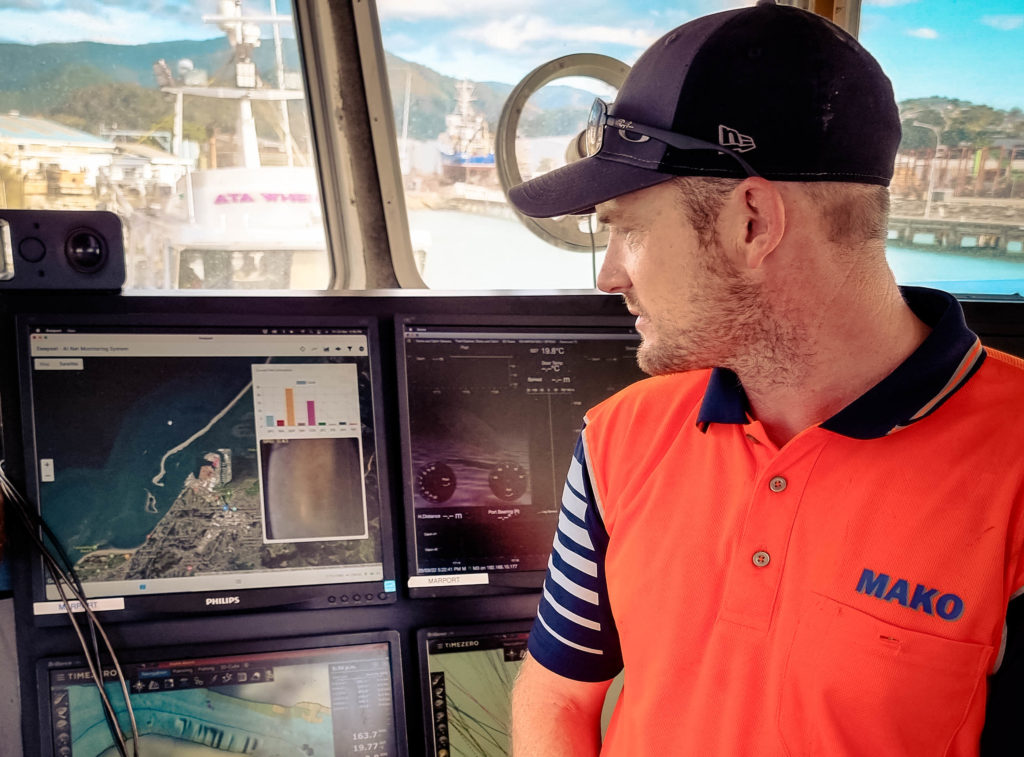 A shared vision to improve the environmental performance of commercial fisheries
In response to the release of the draft Fisheries Industry Transformation Plan on 27 April, Seafood New Zealand Chief Executive Dr Jeremy Helson said the fishing industry shares the Government's vision of improving the environmental performance of commercial fisheries, increasing the value created from fishing, and providing support for the people doing the mahi.
"It may be called a 'transformation' plan, but the good work done by our fishers and fishing companies means we are not at ground zero. As food producers, our journey of improvement started a long time ago," Dr Helson said at the time.
"Changes we have already made to lighten our environmental footprint, be more targeted and purposeful in what we do, innovate and adopt new technology, and improve the work life of fishers have been dramatic. Over the last 30 years in particular, fisheries management and industry's proactive initiatives have seen fish populations bounce back, massive reductions in accidental seabird and mammal captures, and a low carbon footprint compared to other protein producers, for example.
"We realise there are still changes we need to make, but we won't resile from change. Broader submissions by industry to the draft plan will likely suggest some amendments, but a shared vision for a better future, and the industry's willingness to continue to advance how we do things, make this plan likely to succeed."