The Seafood Industry Supports Huge Antarctic Marine Reserve
Published: 4 November 2016
The declaration of the Ross Sea marine reserve demonstrates protection, conservation, and sustainable commercial fishing can go hand in hand.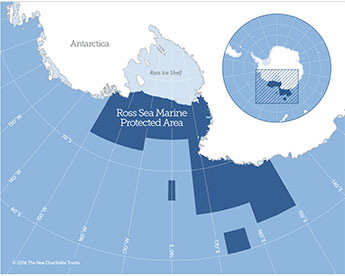 Agreement to progress with the world's largest marine reserve, spanning 1.55 million square kilometres of Antarctic waters, was announced last week. Final details are still to be decided during 2017.
The agreement will result in nearly three quarters of the Marine Protected Area (MPA) closed to all fishing, while allowing sustainable harvesting of fish and krill in other sections of the Ross Sea.
As well as protection for marine mammals and fish, the marine reserve encompasses the Ross Sea shelf, the Balleny islands region, and a representative area of seamounts.
The Ross Sea sustainable toothfish fishery was initiated by New Zealand through CCAMLR nearly 20 years ago.
The New Zealand seafood industry recognises the Ross Sea is a unique and special area, which at the same time supports a very productive and sustainable fishery. From the start of the process industry has been involved as a stakeholder group to develop a workable MPA.
The Ross Sea Antarctic toothfish (Dissostichus mawsoni) fishery received Marine Stewardship Council (MSC) certification in November 2010.
The MSC tick, regarded as the international sustainability gold standard, is based on third party assessment across three broad categories – maintenance of the target fish stock, maintenance of the ecosystem, effectiveness of the fishery management system.
The Ross Sea fishery is strictly managed, with two observers carried on all vessels, and catch is restricted to an annual catch of about 2,900 tonnes.  Based on one of the first internationally successful tagging programmes, initiated by the New Zealand seafood industry in 2001, stock assessments have been carried out annually or biennially since 2006. The yield estimates on which annual allocations are based are founded on a precautionary CCAMLR decision rule that states that at no time will the population spawning stock biomass drop below 50% over a 35 year horizon – that is the stock assessments are always looking 35 years ahead.  The current figure for spawning stock biomass after nearly 20 years of fishing is about 75% of the initial stock.
In the Ross Sea Antarctic toothfish are caught on longlines in deep water generally between 700 to 1,800 metres and only in the summer months when the sea ice thaws allowing access for vessels.
The Ross Sea reserve decision, as complex, political and time consuming as it was, demonstrates the need for consultation – and patience – where a number of parties are involved.
New Zealand leads the world in marine protection with 30% of our waters (out to 200 miles offshore) closed as MPAs – this equates to an area up to four times New Zealand's land area. These MPAs exclude activities (mainly trawling) by law to protect and conserve New Zealand's marine biodiversity. At least 10% of each of the different Marine Environment Classifications is protected.
All of these marine protected areas demonstrate that at times strict no-take marine reserves are appropriate and, at times, so are marine protected areas that allow for sustainable use such as recreation, tourism or fishing. Sustainable use and biodiversity conservation can go hand in hand.
Deepwater Group is a non-profit representing the interests of deepwater quota owners and works in partnership with the government, scientists, environmental groups and others to ensure that New Zealand's deepwater fisheries are sustainably managed.