Proposed TACC Changes for 1 October 2018
Published: 25 July 2018
Most of New Zealand's commercial fisheries appear to be in good shape, according to the Ministry for Primary Industries' (MPI) latest sustainability round.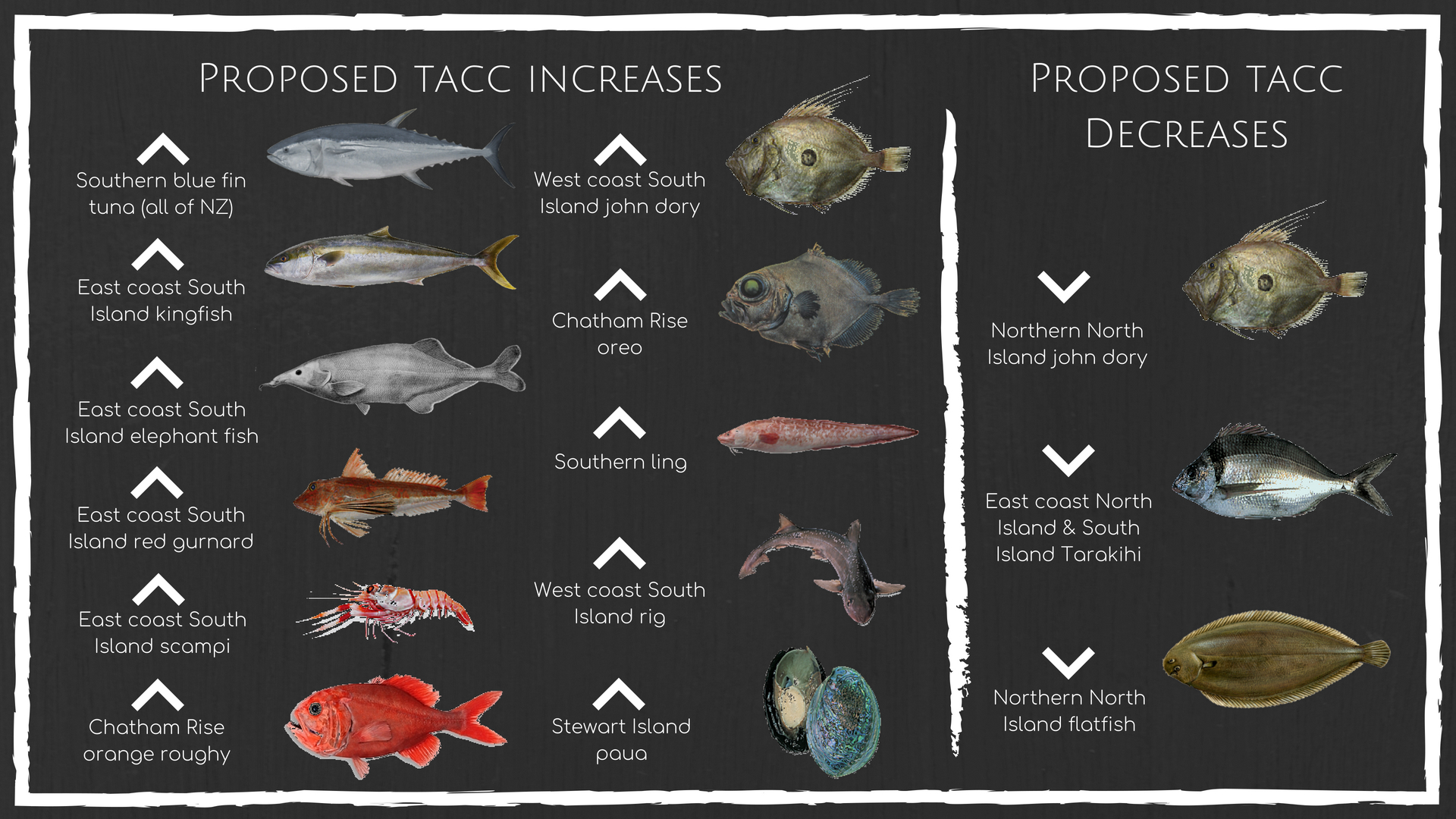 Proposed TACC (Total Allowable Commercial Catch) changes include an increased catch for eleven species which are showing signs of increased abundance.
A closure is proposed for the Kaipara Harbour recreational scallop fishery and TACC decreases are proposed for the John Dory, tarakihi and flatfish fisheries.
MPI, now Fisheries New Zealand, use scientific assessments to calculate the health of a fishery. Those assessments show that some 96.4 percent of fish of known status come from stocks where sustainability is not a concern.
The assessments involve fisheries scientists from science institutes like NIWA, universities, industry, non-government organisations, and Fisheries New Zealand. Together, they have produced a significant amount of peer-reviewed scientific research which reveals healthy fish stocks in New Zealand's waters.
Increases in TACC are proposed for:
Southern blue fin tuna (all of New Zealand, STN 1)
East coast South Island kingfish (KIN 3)
East coast South Island elephant fish (ELE 3)
East coast South Island red gurnard (GUR 3)
East coast South Island scampi (SCI 3)
Chatham Rise orange roughy (ORH 3B)
Chatham Rise oreo (OEO 4)
West coast South Island john dory (JDO 7)
West coast South Island rig (SPO 7)
Southern ling (LIN 5)
Stewart Island paua (PAU 5B).
Decreases in TACC are proposed for:
Northern North Island flatfish (FLA 1)
Northern North Island john dory (JDO 1)
East coast North Island and South Island tarakihi (TAR 1, 2, 3 & 7).
For full details on these proposals, download the consultation document from Fisheries New Zealand.