A decade delivering sustainability
Published: 18 December 2017
Deepwater Group (DWG) celebrated more than ten years delivering healthy fisheries at their recent annual general meeting.
Established in 2005, DWG was a merger of the hoki, squid and orange roughy management companies, with a mandate for delivering the best-managed deepwater fisheries in the world through progressive management and robust science.
George Clement has been their chief executive since inception and said they had achieved many proud moments along the way.
"We have helped achieve Marine Stewardship Council certification or recertification for 21 stocks, representing over 70 percent of deepwater catch," Clement said.
"Ling, southern blue whiting, orange roughy, hake and hoki stocks have all attained MSC certification, which is the independent gold standard for sustainability and is achieved through robust and peer reviewed science, along with responsible management."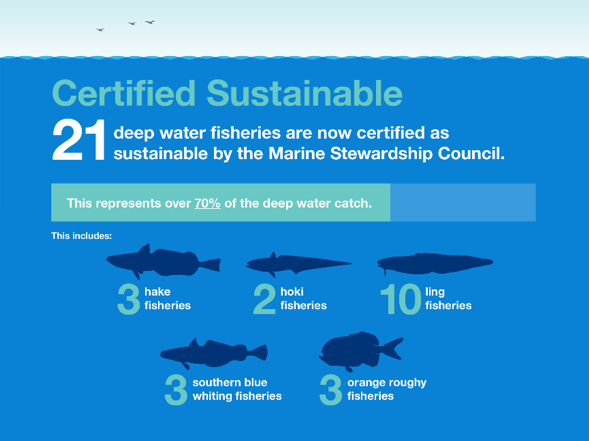 Inshore stocks, albacore and Talley's purse seine skipjack tuna have also been certified.
The quota owners' direct purchase of science has proven essential in ensuring the information is available to keep stocks in line with their management targets, Clement said.
"In the case of orange roughy, in collaboration with Sealord and the Commonwealth Scientific Institute and Industrial Research Organisation, we have developed world-first technology – the Acoustic Optical System.
"The technology enables scientists to view in real time what is happening 1,000 metres below the surface and estimate stock sizes with greater accuracy."
Other crowning achievements included proposing the development of Benthic Protection Areas that now protect 30 percent of New Zealand's Exclusive Economic Zone, and introducing codes of practice that have minimised fisheries interactions with other animals.